Connect to GreatCloud from anywhere with Skyroam.
April 4, 2016

Notice: GreatCloud Upgrades
January 27, 2017
It was worth the trip to Dattocon 16 in Nashville, TN

It was an excellent convention!
Paul and I were fortunate enough to attend Dattocon between June 20th and 22nd in Nashville, TN. It was difficult to top last years convention in New Orleans, LA but the team at Datto managed to do it!
The event keeps growing with hundreds of partners attending from across the globe. There was also an impressive contingent of Datto staff and engineers present. We got a chance to pick the brains of the people to write the code and design their solutions, it was very informative!
Datto is an innovative provider of comprehensive backup, recovery and business continuity solutions used by thousands of managed service providers worldwide. We've partnered with them to deliver top of the line business continuity and disaster recovery solutions for our clients and our own cloud services.
The image to the right shows a few shots from the plane as we were leaving the Timmins airport. Lets just say that Paul and I aren't "small" men, a day in airports and planes is never fun but it was definitely worth the trip.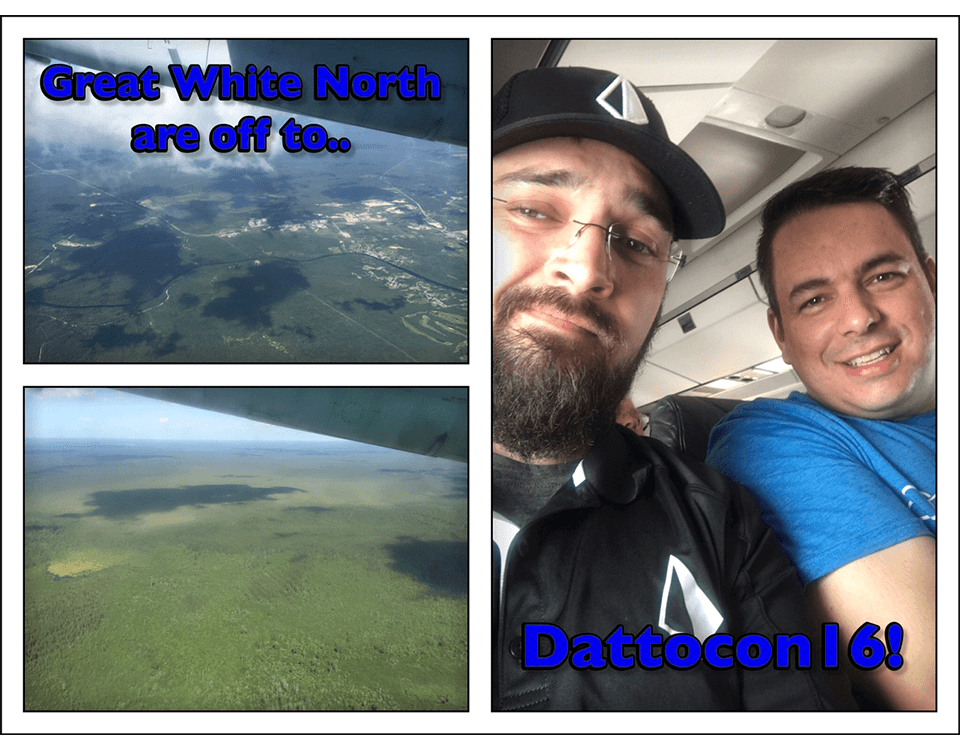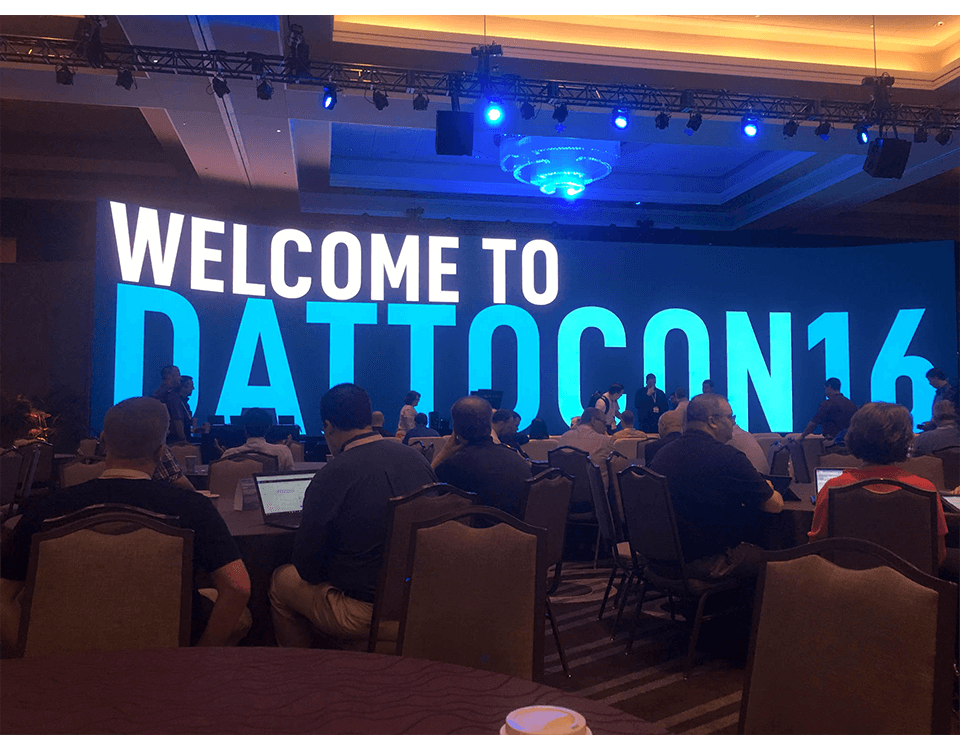 The convention was held at the Omni Nashville Hotel right downtown and the views were great. For two IT guys that don't get to travel too far from home it was a welcome change of pace. In the evenings we had a bit of time to see the city, Broadway St. is definitely the place to be.
We were VERY impressed with the massive screen they had set up for the convention (shown in the image to the left). We had originally only seen it from afar and I lost a bet with Paul. I could have sworn it was screens + projectors but I was wrong, Paul was right in that it's a full digital display with LED's for each pixel. It was an impressive beast to say the least and drew quite a few remarks throughout the convention.
The speakers were amazing and informative again this year, we even got to hear from the illustrious Steve Wozniak! Now there is an interesting man, I highly recommend attending any convention that has him as a speaker. You won't be disappointed.
Getting a peek into Datto's roadmap was also insightful, they have some pretty big plans to shake up the industry and given their track record over the last few years I'm sure they'll turn some heads in the very near future. It's a great feeling to finally meet all the people you've spoken to on the phone time and time again.
It was also great to meet all of the other business owners and IT managers that were in attendance. We have a group of friends that we seem to only see at Dattocon and it was great to catch up with them (shout-outs to Brad, Roy and Steve). The real value of these conventions comes from the opportunities to chat with so many other companies that are in our industry to discuss what works and what doesn't for everyone.
Oh yeah, they even gave us free cowboy hats! (Paul was pretty excited.)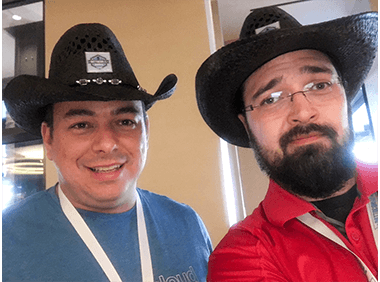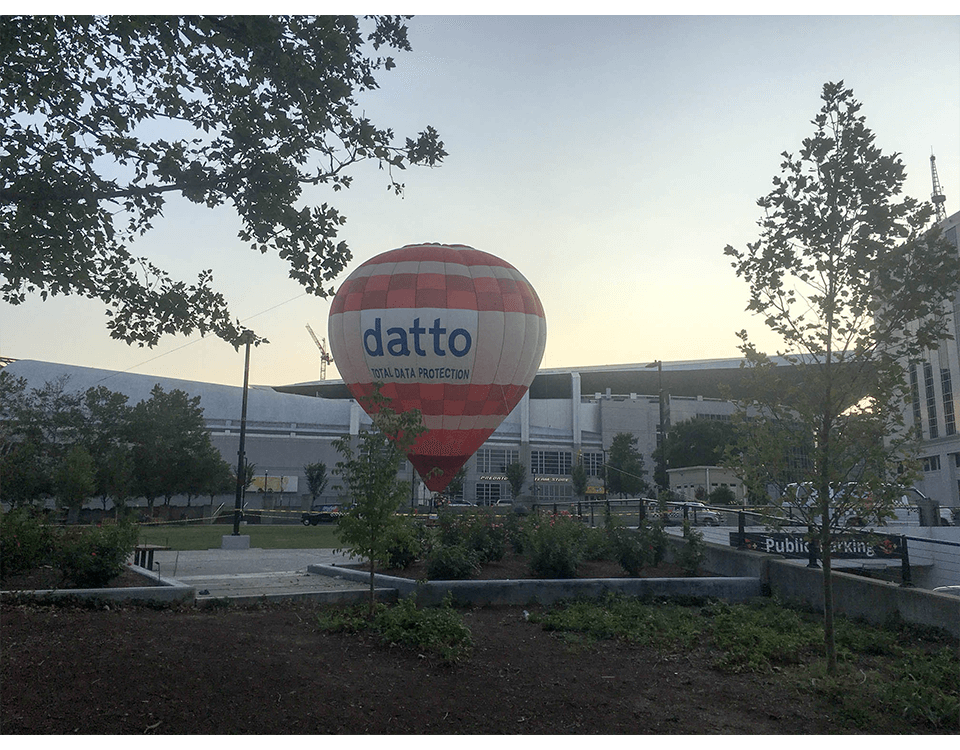 Datto Elements Party!
On the final day of the conference Datto wraps things up with their Elements Party, a great way to celebrate and cap things off. This year it was held at the Wildhorse Saloon which was fully catered, open bar and had some amazing live music. To say it was an awesome time is really selling it short.
Knowing their target audience, Datto also managed to fill the place with arcade cabinets and games tables throughout. There was everything from air hockey to Daytona USA. And yes, all 8 of those racing units were against each other! (I managed to come in 2nd place on my turn!)
A great big THANK YOU to the team at Datto for putting on such a great convention.
We're already counting the days to Dattocon 17!