Qujannamiik Northern Lights 2018
February 14, 2018

Notice: GreatCloud Upgrades
December 8, 2018
DattoCon18 in Austin, TX – Honoured with a Golden Datto!

DattoCon never disappoints!
The team at Great White North were fortunate to attend our 4th DattoCon, this year in Austin, TX. Not quite sure how Datto manages to top the previous years convention year on year but the wizards on their events team manage to pull off the feat flawlessly!
The event keeps growing with nearly 1600 partners in attendance this year from all corners for the globe! Because of the Autotask merger in late 2017 there was a great combination of Datto and Autotask veterans there to deep dive into new ideas and business strategies.
In previous years that we've attended the conference has been held in Denver, CO. (2017), Nashville TN. (2016), and New Orleans, LA. (2015). We're already looking forward to DattoCon19 slated to be hosted in sunny San Diego, CA.!
This trip to DattoCon was a bit special for Great White North as we were honoured with the Golden Datto for "Innovator of The Year" in Canada! Here's a bit more information about Datto, DattoCon and the Golden Datto awards: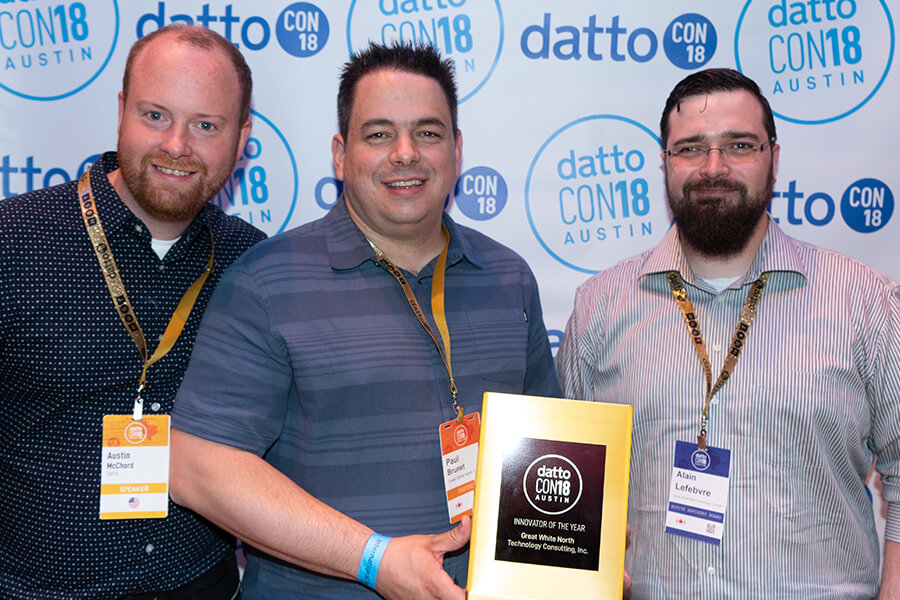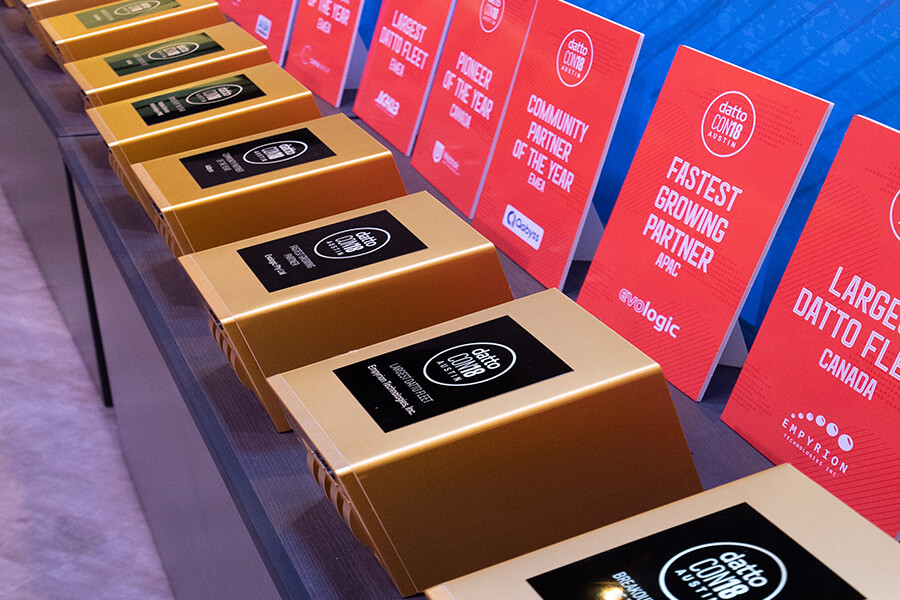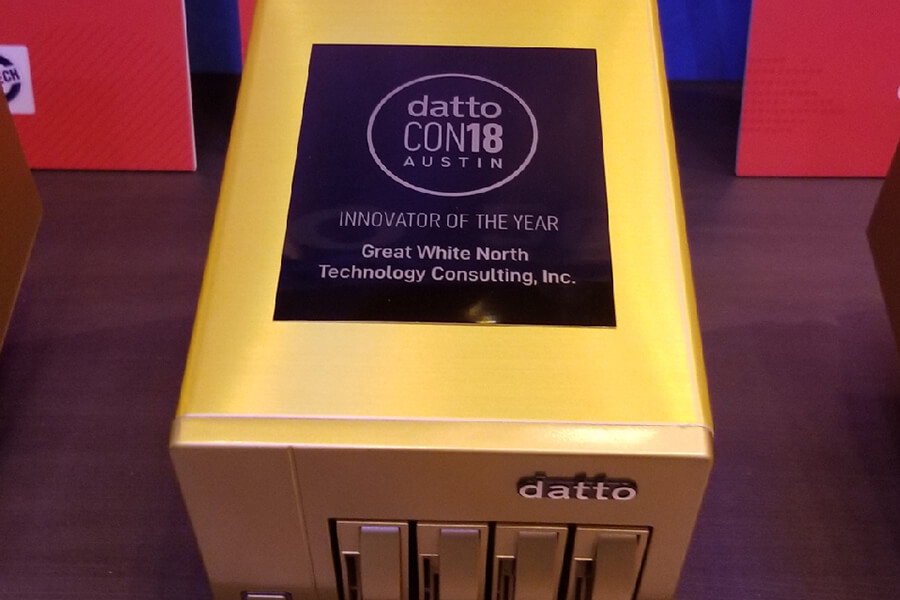 Monday, June 25th 2018: Great White North today announced the company took home the Innovator of The Year - Canada award at the sixth annual DattoCon, Datto's annual partner conference. DattoCon has become one of the largest events in North America for Managed Service Providers (MSPs) and the Golden Datto awards are presented each year to the best of the best among Datto's partner community. This year, the awards were given across nine categories recognizing a range of talented, world-class MSPs.
Innovator of The Year: This partner has found an innovative way to promote the value of business continuity to a specific customer vertical. The real world scenarios that they use to show the need for business continuity have helped them win business, grow their organization, and become a thought leader for that vertical. This partner also shares their strategy with other Datto Partner Community members, to help them do the same.
"Our partners are critical to the small and medium-sized business community, including some of the world's fastest growing companies" said Rob Rae, Vice President of Business Development at Datto. "It's an honor to recognize Great White North for taking home the Innovator of The Year - Canada category's 2018 award and demonstrating their commitment to growing their business while helping their customers succeed. We look forward to more success in 2019"
About Datto:
At Datto, our mission is to empower the world's small and medium sized businesses with the best in enterprise-level technology. We do it by equipping our unique community of Managed Service Provider partners with the right products, tools and knowledge to allow each and every customer to succeed. It's an approach that's made us the world's leading provider of MSP delivered IT solutions. Datto is headquartered in Norwalk, CT, with offices worldwide.
The team at Great White North were thrilled to be nominated for Canadian Partner of The Year last year at DattoCon17 in Denver, CO. (even if we didn't end up winning). This year we were overjoyed to have our teams efforts promoting Datto's best in class business continuity and networking solutions recognized at DattoCon18!
The conference itself was held at the Fairmont Austin, a great venue that was able to accommodate the mob of IT people that descended upon the city. For a few days I'm pretty sure Datto and their partners had the entire hotel booked solid and had the run of the place completely to ourselves. It was very convenient having the conference keynotes, tracks and accommodation all in the same place, especially as it was located in the heart of downtown and walking distance to live music on 6th Street.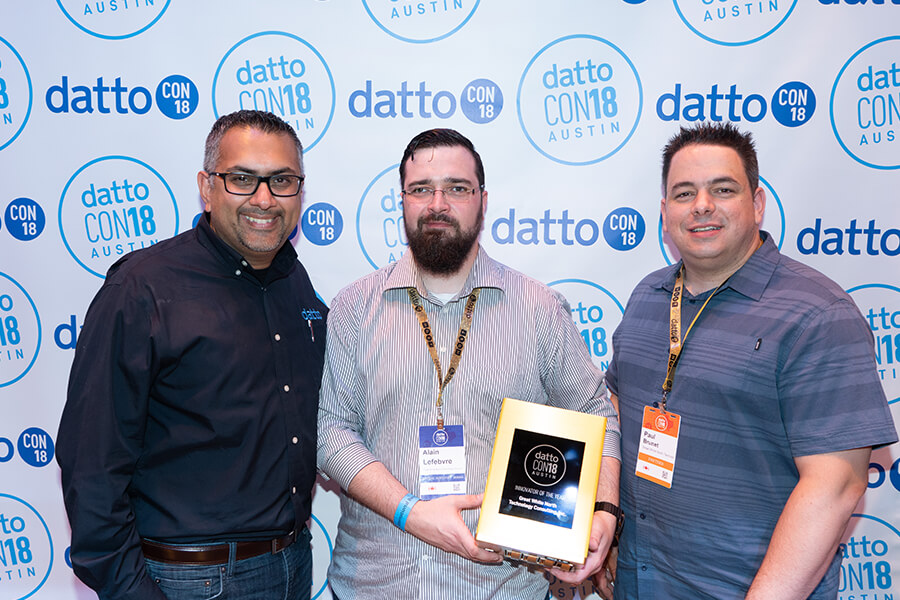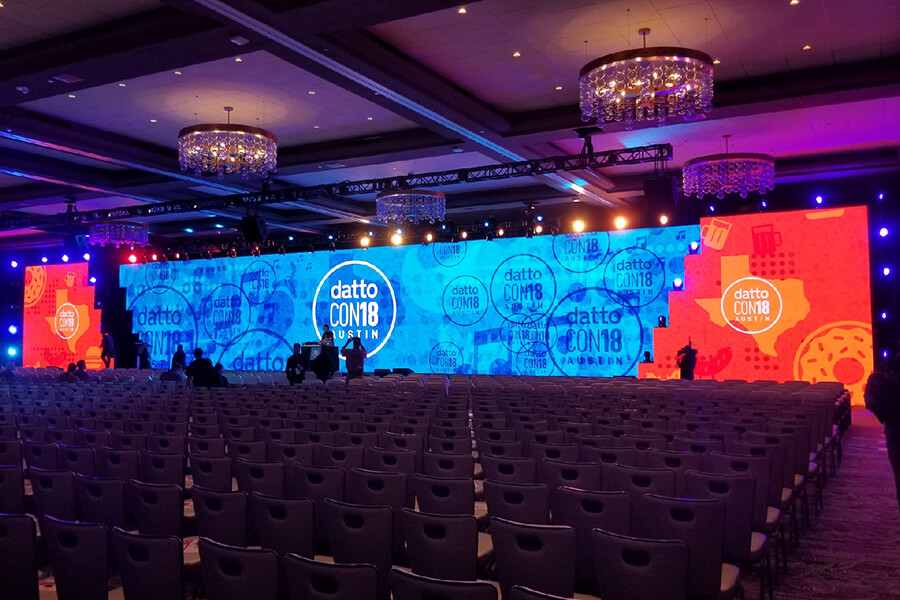 Every year the puddle of drool we create over the video wall that Datto puts up seems to grow in proportion to the number of pixels they add. This is one of the highlights of the event for us, we keep dreaming of putting one up in our boardroom to watch Netflix and play video games. Oh and we'd probably use it for meetings every now and again...
We also had a chance to learn from some very engaging keynote speakers this year. On the first day of the conference we had a chance to hear from Robert Herjavec, founder of the Herjavec Group. His insight on starting from nothing and building a very successful career as an entrepreneur was motivating to say the least.
On the final day of the conference the keynote speaker was Sir. Richard Branson, founder of the "Virgin" group of companies known worldwide. Seeing someone build so much while remaining a very down-to-earth individual inspires us to better ourselves. We learned a lot about his charitable endeavors and all the good he and his companies do around the world.
In addition to the keynote speakers there were many industry experts and Datto team members that shared their experiences at DattoCon18. Getting a chance to learn from some hard lessons that our peers have gone through is part of the great value we take home with us each year. We're interested to see who Datto selects as the keynote speakers next year!
Datto wraps up the conference with a great celebration on the final evening, dubbed the "Datto Elements Party". This year it was hosted at the famous Stubb's Bar-B-Q located downtown on Red River St. Datto and their sponsors fill the place with excellent food, refreshments and entertainment (even arcade cabinets)!
The live band that played rock & roll covers from the past few decades were a treat. The Spazmatics were extremely talented musicians all while being entertaining showmen in putting on great triple set. The weather managed to hold up as we didn't get rained on at the outdoor venue. We had such a great time we barely noticed the Texas heat and humidity.
While at the conference we get the opportunity to catch up with many friends and colleagues that we only ever see at DattoCon. The stories we share and the lessons we pass along stay with us through the year and help us in the months to come. We also get value from meeting with the vendors in our industry and learning about new technologies on the horizon.
In closing, we'd like to take to thank the team at Datto for putting on such a great conference and bringing all of the vendors, partners and experts together in once place every year. The amount of work that goes into putting on something of this magnitude is astonishing and it often becomes a very thankless endeavor. Thank you Datto and Team, we appreciate it!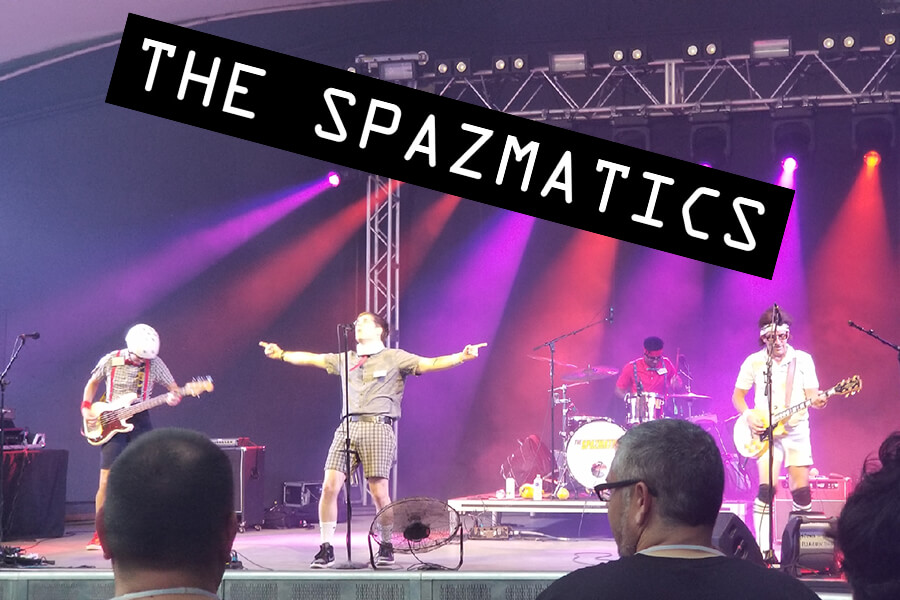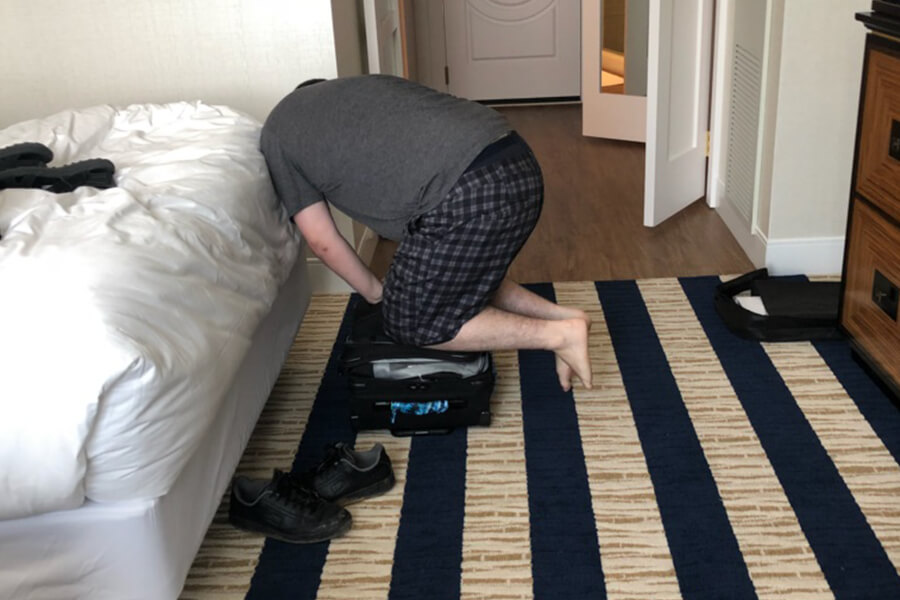 Bonus Photo: This is what it looks like when you try to cram all of your conference swag into your carry-on luggage at the end of the week. (Yes, I managed to get it closed.) Who wants to wait at the carousel for a checked bag anyway!?